To create a control panel, select Edit > Add control panel from the ArtiSynth main menu. This will cause a blank control panel to appear.
To add a widget to this panel, right-click inside the the panel and select Add widget. This will cause a widget creation dialog to appear, as shown in Figure 33.
The top-most widget in this dialog is a component/property selector. The component section is a selection display identical in function to that described in Section 4.4: the path of the most recently selected component is displayed, and its parent may be selected by clicking on the "up" button at the left. If no component is selected, you will need to select one using the navigation panel or the viewer. Once a component is selected, the combination box on the right will provide a selection of properties that may be selected for the widget. Once a property is selected, other options in the dialog may be used to tune the appearance of the widget:
12.1.1

Composite property widgets

A CompositeProperty is a Property which contains sub-properties. If a composite property is selected, the control panel will create a composite property widget, three of which are shown in Figure 34.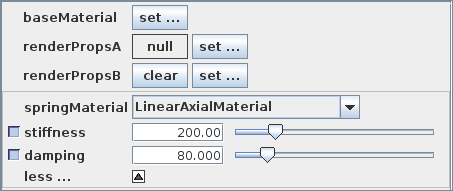 Clicking the set button of a composite property widget will create another panel presenting all the sub-properties. The composite property widget is disabled until this panel is closed.
In some instances, a composite property can be set to null. In such cases, the widget will provide an additional component, which
12.1.2

Widgets for sub-properties

It is possible to attach widgets to the sub-properties of a composite property, provided that the composite property has a non-null value.

In particular, when a non-null composite property is selected from the component/property widget, the user has the option of either
•

clicking the Done button and selecting the composite property, which will create a composite property widget as described in the previous section, or

•

selecting one of the composite property's sub-properties.
When a non-null composite property is selected, the property's name will move over into the component field of the component/property selector, and the combination box will be cleared and reset to allow the selection of the sub-properties.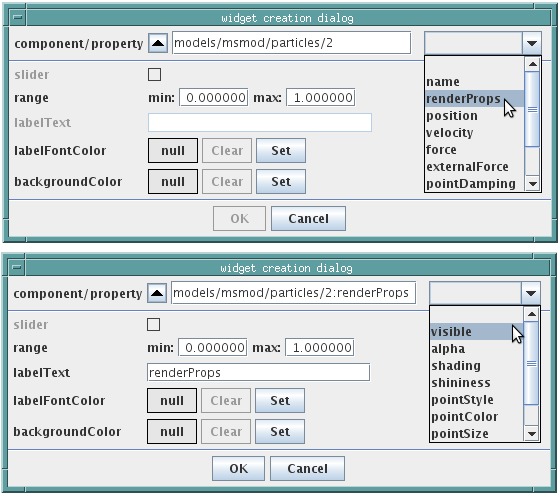 For example, in Figure 35, we first select renderProps, which is a composite property of models/msmod/particle/2, and then (in the lower panel) select the sub-property visible. When renderProps is selected, its name is moved to the component panel, where it appears as

  models/msmod/particle/2:renderProps

Note:
The ':' character is used to separate components from properties in component/property paths