A variety of settings are available to adjust attributes related to the viewer, mouse bindings, and model interaction and simulation. Many of these settings can also be saved as preferences (Section 11.2) to provide initial values when ArtiSynth is started up.
11.2

Preferences

Preferences are settings saved in the user's configuration data so that they are restored when ArtiSynth is restarted. They are stored in the file settings/preferences within the configuration folder (Section 1.1).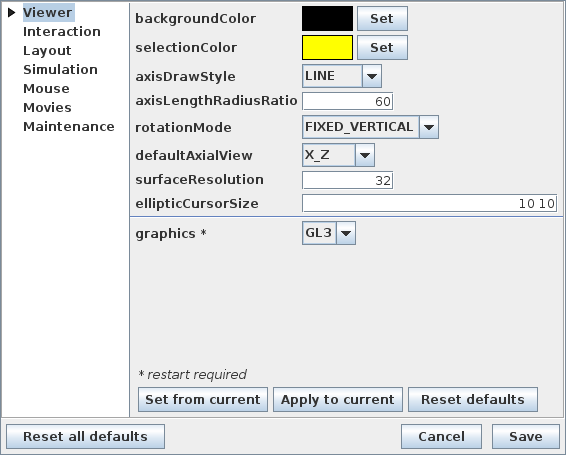 Preferences can be edited by selecting "Preferences ..." from the Settings menu, which opens a preferences editor dialog (Figure 42). A panel on the left contains a tree-based representation of the different preferences, which can be used to select a specific set of preferences which can then be adjusted using a preferences panel panel displayed on the right.
Values shown in the preferences editor describe stored values that are set when ArtiSynth is restarted, and setting them will not change the current settings in the ArtiSynth application. However, most preferences panels contain the button "Apply to current" which will apply the values to the current application settings. Other buttons include "Set from current", which loads the values from the current application settings, and "Reset defaults", which resets the panel values to their defaults.
To save preferences in the user's configuration data, one should click the Save button at the bottom right of the preferences editor. The "Reset all defaults" button located at the bottom left resets all preference values to their defaults; the Save button must subsequently be used to save these reset values.